This is an archived article and the information in the article may be outdated. Please look at the time stamp on the story to see when it was last updated.
This slideshow requires JavaScript.
SAN DIEGO – More than 2,000 police officers from around the country participated Friday morning in the funeral procession for a San Diego police officer killed in the line of duty last week.
Gov. Jerry Brown and San Diego Mayor Kevin Faulconer joined the mourning relatives and police officers at a midday public memorial service in El Cajon for 16-year SDPD veteran Jonathan "J.D." De Guzman. A motorcade procession to Glen Abbey Memorial Park will follow the church ceremony.
The first of the two ceremonial motorcades for De Guzman began about 9 a.m., leaving Qualcomm Stadium and traveling to Shadow Mountain Community Church in El Cajon. The California Highway Patrol closed Interstate 8 from Interstate 15 to Greenfield Drive in El Cajon to make way for the massive procession, which included more than 600 law enforcement vehicles and 200 police motorcycles. A memorial service at the church for De Guzman began at about 11 a.m.
Law officers began arriving at the stadium as early as 5 a.m. to get organized for the procession. More than 1,000 officers from the San Diego Police Department were joined by about 1,000 officers from police departments from around the state and the country, who  sent officers as a show of solidarity and support for San Diego and its police department. Uniformed officers from Los Angeles, Orange County, Inyo County, Barstow, Stockton,Las Vegas, Bakersfield, Salinas, San Luis Obispo, Oxnard, Portland, Phoenix and Seattle, along with Louisiana state troopers and California Highway Patrol officers were participating in the procession. Other first responders, including firefighters and paramedics will also take part.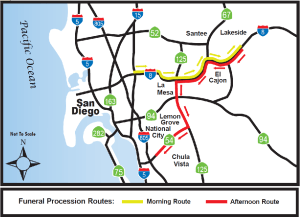 After the memorial service in El Cajon, the huge motorcade found its way to Glen Abbey Memorial Park on Bonita Road, where De Guzman's body will be laid to rest. The procession required a shutdown of westbound I-8 from Greenfield Drive to southbound state Route 125 to westbound state Route 54 into Bonita for about an hour, beginning around 1 p.m., according to Caltrans.
Freeway connectors and onramps along the freeways were closed until the processions passed. Delays were expected to last between 15 and 30 minutes.
Signs were posted at various highway locations to alert motorists to alternate routes, Caltrans advised.
De Guzman, 43, was gunned down July 28 during a pedestrian stop in Southcrest. His gang-unit partner, Officer Wade Irwin, 32, suffered a non-fatal gunshot wound. De Guzman was struck by five rounds while seated behind the wheel of his cruiser. Irwin suffered a serious but non-life-threatening wound.  The alleged assailant, 52-year-old ex-con Jesse Michael Gomez, was critically injured by Irwin's return fire and remains hospitalized.
The San Diego Police Officers Association is collecting money for De Guzman's family. Donations can be mailed to the San Diego Police Officers Association, 8388 Vickers St., San Diego, CA 92111, or made online at sdpoa.org/about-widows-orphans-fund/.
SDPOA officials asked donors to include "Officer Jonathan De Guzman" in the notes of the online donation or on the memo lines of their checks.
Prospective donors can also text "De Guzman" to 41444 for a response with a link to the SDPOA charity's page.
Contributions to aid in Irwin's recovery expenses can be made at gofundme.com/irwinfamilyfund.