This is an archived article and the information in the article may be outdated. Please look at the time stamp on the story to see when it was last updated.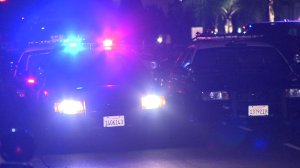 SAN DIEGO — San Diego police Friday identified a five-year department veteran who shot and seriously wounded a fugitive in Point Loma this week.
Officer Brian Sanchez opened fire on 28-year-old Michael Taylor in the 2900 block of Garrison Street around 8 p.m. Wednesday, according to San Diego police Lt. Jorge Duran.
At the time, Sanchez, along with other uniformed SDPD police officers, state parole agents and members of the U.S. Marshal's Fugitive Task Force, were staking out the area in search of Taylor, who was wanted on weapons and narcotics violations, Duran said in a statement.
Taylor was allegedly sitting in a parked car when officers attempted to take him into custody. Seeing the officers, he put his vehicle in reverse and rammed several police vehicles and struck Sanchez in the leg, Duran said, adding that's when Sanchez fired off multiple rounds from his service weapon.
Taylor was struck in the torso and hospitalized in serious but stable condition, according to the lieutenant, who said Sanchez and four Deputy U.S. Marshals were treated for minor injuries.