This is an archived article and the information in the article may be outdated. Please look at the time stamp on the story to see when it was last updated.
SAN DIEGO - Five World War II veterans received France's highest civilian honor Monday in a ceremony at Naval Base San Diego.
The honorees included a B-17 navigator, two infantryman, a nurse and a forward artillery observer.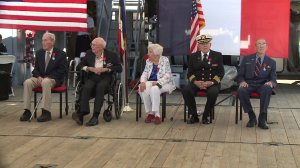 The award of The National Order of The Legion of Honor in the rank of Chevalier (Knight) is the highest civilian honor France bestows on its citizens and foreign nationals.
The presentations were made by Christophe Lemoine, the Consul General of France in Los Angeles, at a private ceremony aboard the French Naval Patrol Vessel B2M Bougainville.
According to the U.S. Navy, the honorees were:
-- Col. Douglas C. Willet, U.S. Air Force Reserves (Ret), a B-17 navigator who flew five combat missions and was reactivated during the Korean War;
-- Robert A. Sulit, an infantryman who later reenlisted in the Navy and rose to the rank of captain;
-- 2nd Lt. Helen L. Cronk, an Army nurse in France who will become the first Southern California woman to receive the award;
-- Staff Sgt. Gerhard R. Lorenz, an infantryman who lost a leg when wounded in combat; and
-- John J. Roach, an Army forward artillery observer.
Willet, Lorenz and Roach live in San Diego. Sulit resides in Del Mar. Cronk is a resident of San Juan Capistrano.
"I feel quite honored, surprising but honored," said Willet.  "The medal covers a period of time from when you were supporting the French during World War II. The application for the honor is very long and detailed, a number of people get turned down so you never know why."
"I've always loved the French and this I thank the French for this very much," said Roach.
"It's hard to believe, I'm getting it. It's an honor," said Sulit.
The Legion of Honor is the highest decoration bestowed in France, it was established in 1802 by Napoleon Bonaparte.  Some of America's best known recipients are Generals Dwight D. Eisenhower, Douglas MacArthur and Admiral Mike Mullen.