This is an archived article and the information in the article may be outdated. Please look at the time stamp on the story to see when it was last updated.
SAN DIEGO -- San Francisco 49ers quarterback Colin Kaepernick again did not stand when the national anthem was played before Thursday night's preseason game against the San Diego Chargers at Qualcomm Stadium.
Kaepernick took a knee on the 49ers sideline as Navy Petty Officer 1st Class Steven Powell sang "The Star-Spangled Banner'' while 240 sailors, Marines and soldiers presented a U.S. flag and service emblems from all branches of service.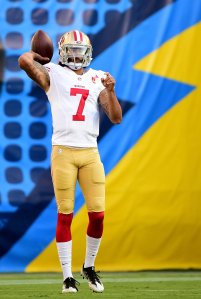 Color guards from the Navy, Marine Corps and Army presented the flag as the Chargers conducted their 28th annual Salute to the Military tonight, including a pregame parachute jump by retired Navy SEALs.
Kaepernick was booed when he entered the field and again before each play on the 49ers game-opening 16-play drive which culminated with DuJuan Harris' one-yard touchdown run.
The booing continued on Kaepernick's three plays at quarterback on San Francisco's second possession.
Kaepernick was seen sitting during the national anthem before Friday's preseason game against the Green Bay Packers at Levi's Stadium in Santa Clara.
Kaepernick later said he wouldn't stand to show pride in a flag "for a country that oppresses black people and people of color."
At halftime, the Chargers recognized six Vietnam War veterans in a remembrance of the 50th anniversary of the conflict. The team also had wounded warriors as special guests and a patriotic fireworks show to conclude the halftime break.
At the start of the third quarter, Powell returned to the field to perform "God Bless America.''
Kaepernick, who is biracial and grew up with white adoptive parents, came under heavy criticism for his stand, including from Republican presidential candidate Donald J. Trump, who suggested he find a different country. He has also received support for his right to protest.
Kaepernick led the 49ers to Super Bowl XLVII in 2013, his second season in the league, but has struggled recently, including losing his starting job midway through last season.
Kaepernick did not play in San Francisco's first two preseason games following multiple surgeries.