This is an archived article and the information in the article may be outdated. Please look at the time stamp on the story to see when it was last updated.
SAN DIEGO — Three Navy ships carrying about 4,000 sailors and Marines left San Diego on deployment Friday as part of the Makin Island Amphibious Ready Group.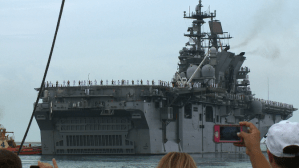 It is the maiden deployment for amphibious transport dock USS San Diego. The fourth naval vessel to be named after San Diego was commissioned in May 2012 in a ceremony at Navy Pier. The 684-foot ship is designed to carry landing craft, fighting vehicles, helicopters and personnel.
The ships of its class have more capacity than their predecessors and are designed to carry around 700 Marines — and up to 800 if necessary. The vessels also incorporated "stealth" technology into their design, resulting in a shape that can help avoid detection by radar.
The group also includes amphibious assault ship USS Makin Island, the amphibious dock landing ship USS Comstock, and the 11th Marine Expeditionary Unit from Camp Pendleton.
"We have a fantastic Navy and Marine Corps team, and we have just completed — very successfully — a challenging and comprehensive pre- deployment training period that has prepared us for the uncertainty of our upcoming deployment," said Col. Matthew Trollinger, commanding officer of the 11th MEU. "We are ready to get underway and successfully execute any mission assigned."
The Navy said the ARG/MEU team serves as a sea-based, expeditionary crisis-response force capable of conducting amphibious missions.
The San Diego, the sixth ship in the San Antonio class, had its keel laid on May 23, 2007, at the Huntington Ingalls Shipyard in Pascagoula, Mississippi. It was christened June 12, 2010, and delivered to the Navy Dec. 19, 2011.
Previous vessels to carry the name included:
the original, a cruiser launched in 1907, was renamed San Diego in 1914, and sunk in 1918 in the Atlantic Ocean following explosions believed to have been caused by German mines or torpedoes from an enemy submarine — making it the only major U.S. warship lost in World War I;
a light cruiser commissioned in 1942 that became the first major allied ship to enter Tokyo Bay at the end of World War II, and was the second most-decorated U.S. Navy vessel of that conflict; and
a Navy cargo ship that served between 1968 and 1997.