This is an archived article and the information in the article may be outdated. Please look at the time stamp on the story to see when it was last updated.
TUSTIN, Calif. — At least four people, including the suspected gunman, died Tuesday morning after a series of shootings  at locations across  Orange County, the Los Angeles Times reported.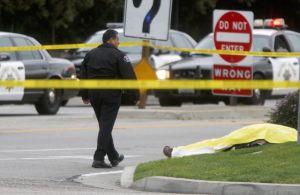 The first shooting took place in Ladera Ranch, where the shooter is believed to have killed one person, said Orange County Sheriff's Department spokesman Jim Amormino.
The man fled in an SUV, then attempted to carjack at least two vehicles in Tustin, resulting in at least two more deaths, said Lt. Paul Garaven, a spokesman for the Tustin Police Department.
The man shot and killed himself after officers located him in a stolen vehicle, followed him into the city of Orange and tried to pull him over, Garaven said.