This is an archived article and the information in the article may be outdated. Please look at the time stamp on the story to see when it was last updated.
SAN DIEGO — Four people, including a toddler, were injured Monday when a car crashed into a convenience store near Montgomery Field, authorities reported.
T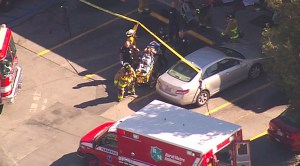 he 2012 Nissan sedan plowed into the front of the 7-Eleven at 3385 Sandrock Road and Hurlbut Street shortly after 9:30 a.m., according to San Diego police.
"I came over here to get a drink and I saw the doors busted wide open," Serra Mesa resident Michael Benner said. "I was just like 'what the hell.'"
The accident left an employee trapped against a refrigerator for a time, SDPD Detective Gary Hassen said.
Medics took the worker, two customers and a 2 1/2-year-old child, who was in a stroller at the time of the crash, to hospitals for treatment of moderately serious injuries.
The 52-year-old driver, who was unharmed and apparently sober, told officers the brakes on her car had failed, according to police. She was not expected to face any significant charges, Hassen said.
"You know you hear about these things happening before, but it's shocking to have it happen so close to home," Serra Mesa resident Joseph Romero said.