This is an archived article and the information in the article may be outdated. Please look at the time stamp on the story to see when it was last updated.
VALENCIA, Calif. – Four of 25 passengers were injured on a ride at Six Flags Magic Mountain Monday after a tree branch somehow obstructed the roller coaster, according to fire officials.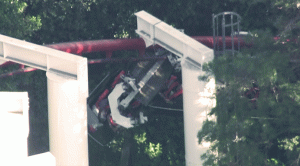 The ride was in a "precarious position" as the people were suspended about 40 feet above the ground on the Ninja roller coaster just before 6 p.m., said Michael Pittman, a Fire Department dispatch supervisor told LATimes.com.
A tree branch fell on the track of the roller coaster and obstructed the train, Magic Mountain spokeswoman Sue Carpenter told KTLA.
Helicopter video showed multiple roller coaster cars stuck at an angle where the tracks pass underneath trees. Rescue crews and firefighters appeared to be cutting down tree limbs near the stranded roller coaster cars.
All of the passengers were rescued from the roller coaster by 8:30 p.m.
The ride is described as a "stealth assassin" and "suspended swinging roller coaster" on the Six Flags website.
It was unknown how long the roller coaster would be shut down.
http://instagram.com/p/qLGuXZgJIT/?modal=true