This is an archived article and the information in the article may be outdated. Please look at the time stamp on the story to see when it was last updated.
CHULA VISTA, Calif. -- Four adults were displaced Monday when a blaze broke out at a house in Chula Vista, officials said.
The fire was reported at about 7:20 a.m. in the 1300 block of Caliente Loop just west of Southwestern College, a Chula Vista Fire Department dispatcher said.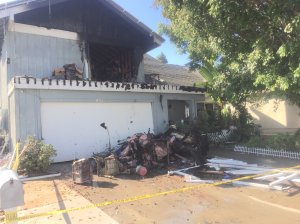 A landscaper employed by the City of Chula Vista saw thick smoke coming from the upstairs and ran over to help two people escape from the second-floor window.
Sadoc Sanchez was working on the green belt a few houses down when he heard screams of distress. He and another gardener raced to the home but couldn't get to the two people trapped inside.
"It was really hard to breathe and you couldn't see anything," Sadoc Sanchez said. "We ran upstairs, tried twice getting in the room and couldn't get the people out. Smoke was real thick, choking thick. So we went downstairs and talked them into jumping over the railing. We caught them down below."
Firefighters arrived at the scene and knocked down the flames shortly before 7:45 a.m., a fire dispatcher said. The fire burned a gaping hole in the home's upper level.
The American Red Cross was dispatched to assist four adults who were displaced by the blaze, a fire dispatcher said.
Three of the residents were treated for smoke inhalation.
The cause of the fire was still under investigation, but firefighters told FOX 5 the smoke detectors in the home were not working.