This is an archived article and the information in the article may be outdated. Please look at the time stamp on the story to see when it was last updated.
SAN DIEGO – The third suspect in the botched Wells Fargo bank robbery shooting from early June has been arrested, officials announced Saturday.
Robert Hodge, 28, was arrested by Mexican police in Rosarito on Friday night, San Diego police Detective Gary Hassen said. He was transported to the U.S. – Mexico border where SDPD and U.S. Marshals were waiting to escort him to San Diego.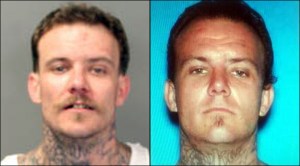 Two men and a woman attempted to rob a Wells Fargo on 8400 block of Genessee Avenue in University City just before 5 p.m. on June 11, police said.
Laura Joyce Elshire, 42, allegedly handed a demand note to a teller claiming to be armed with a gun, according to police. Casey Allen Wilson, 27, allegedly threatened the bank employee with a stun gun.
A bank security officer realized what was happening, identified himself and told Elshire, who was wearing a blond wig and carrying a blue bag, to lie down on the floor along with Wilson, police said. Instead, the male suspect turned and began striding quickly toward the guard, prompting him to fire two shots, according to the SDPD.
Wilson then ran out of the building with wounds to his face and one of his arms, and got into a waiting car, which sped off, police said. The getaway vehicle, a teal-colored 1999 Honda Civic, was allegedly driven by Hodge.
Inside the bank, while the two male suspects fled, the security guard again ordered Elshire to surrender. She allegedly refused and replied, "shoot me," then tried to flee. The guard hit her over the head with the butt of his gun, tackled her and took her into custody, police said.
About 45 minutes later, the Civic pulled up in front of the hospital. Wilson got out, and the man behind the wheel drove off. Wilson was admitted to the trauma center.
Wilson and Hodge are believed involved in another robbery at the same Wells Fargo a month earlier, according to Deputy District Attorney Chandelle Konstanzer.
Hodge faces two charges of robbery, Hassen said.