This is an archived article and the information in the article may be outdated. Please look at the time stamp on the story to see when it was last updated.
SAN DIEGO – Wildlife research teams Wednesday announced the discovery of another pair of bald eagles nesting in San Diego County.
The third pair of bald eagles were found in a canyon near Palomar Mountain during an annual countywide Golden Eagle nesting survey conducted by the Wildlife Research Institute.
Based on it's "salt and pepper" plumage coloration, one of the eagles was estimated to be 3 yeas old. The other bald eagle had white head and tail feathers indicating that it was 4 to 5 years of age.
The pair was in the process of building a nest in a tree, which indicates the animals have reached sexual maturity, WRI biologists said.   Since the nest was in the initial stages of being constructed, WRI assumed the pair would not finish the nest in time to lay eggs this year.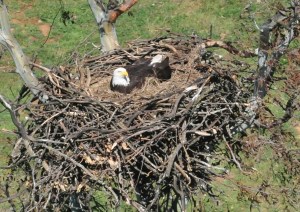 People have been asked not go anywhere near the nest.  The location remains confidential to ensure their protection.
During the survey, WRI researchers were able to snap photographs of a female bald eagle incubating her eggs in the Ramona Grasslands.