SAN DIEGO --  San Diego Gas & Electric could shut off power to up to 40,869 customers beginning Tuesday night because Santa Ana winds are expected to increase wildfire danger, the utility said.
The following communities could be affected:
Alpine
Boulevard
Campo
Descanso
Dulzura
El Cajon (portions of)
Encinitas (portions of)
Escondido (portions of)
Jacumba
Jamul (portions of)
Julian
Lakeside (portions of)
Mount Laguna
Pala
Palomar Mountain
Pauma Valley
Pine Valley
Potrero
Poway
Ramona
Ranchita
Rancho Bernardo (portions of)
Rancho Santa Fe (portions of)
San Clemente (unincorporated area east of)
San Juan Capistrano (unincorporated area east of)
San Marcos (portions of)
Santa Ysabel
Valley Center (portions of)
Warner Springs
Poway resident Maria Fluchert said she is very worried.  "Right now with the current weather we have -- and then you don't know with the wind if (a fire) could just go quickly and take over your home or an entire neighborhood," she said.
Fluchert said she knows firsthand how quickly fire can get out of control.  She lived through the Napa fires two years ago,
"I think about what's happening in Northern California and the spot fires here, and I worry the wind could change, or when will it come to my home," she said.
In the backcountry of East County, SDG&E is taking extra steps now before the dangerous weather hits.  "We are already opening community centers in Julian, Alpine, Valley Center to try and mitigate any risk," said SDG&E spokesman Brian A'Gostino.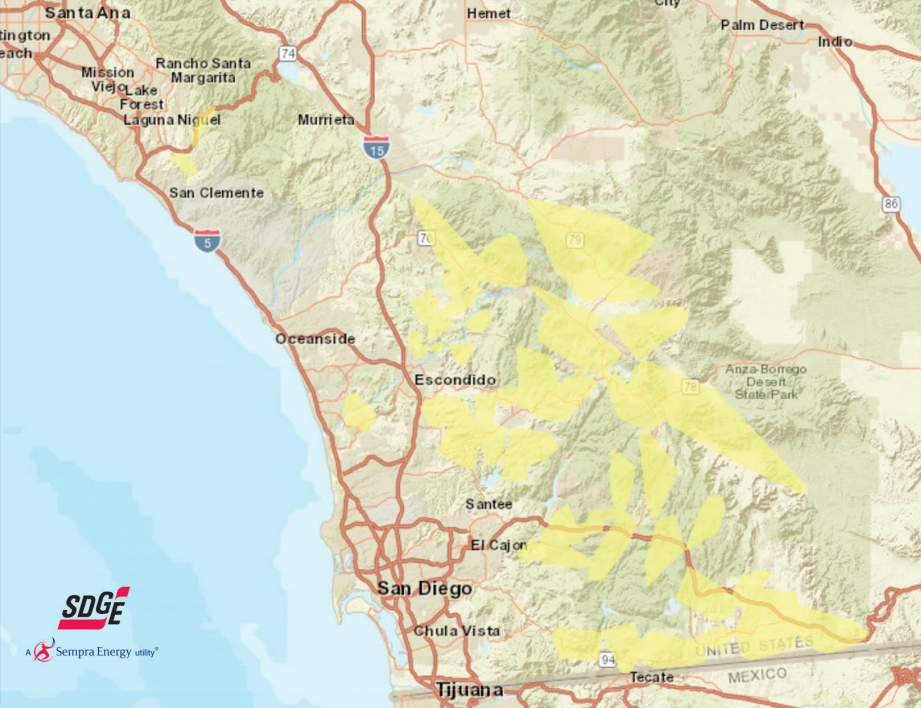 The National Weather Service said it will issue a "red flag" warning effective from 11 p.m. Tuesday to 6 p.m. Thursday for the county's inland valleys and mountains.
The conditions -- featuring winds out of the east and northeast at 50 to 80 mph, combined with humidity levels as low as 5% -- are likely to be the strongest of the season so far and create "an extreme fire-weather environment," the federal agency warned.
The highest winds will occur during the late nights and morning hours, with the strongest ones forecast to occur late Wednesday and early Thursday, according to the weather service.
The following school districts will be closed on Wednesday in anticipation of power shut-offs:
Dehesa School District
Julian Union High School District
Julian Union School District
Mountain Empire Unified School District
Rancho Santa Fe School District
Spencer Valley School District
Warner Unified School District
The following schools will also be closed:
Escondido Union School District: Conway Elementary
Escondido Union High School District: Del Lago Academy
San Marcos Unified School District: Double Peak, San Elijo Elementary and San Elijo Middle School
SDG&E will open community resource centers for residents without power from 8 a.m. to 6 p.m. Wednesday at the following locations:
Descanso Branch Library: 9545 River Dr, Descanso, CA 91916
Whispering Winds Catholic Camp: 17606 Harrison Park Road, Julian, CA 92036
Potrero Community Center: 24550 Hwy 94, Potrero, CA 91963
Pine Valley Improvement Club: 28890 Old Highway 80, Pine Valley, CA 91962
Dulzura Community Center: 1136 Community Building Road, Dulzura, CA 91917
Warner Springs Resource Center: 30950 CA-79, Warner Springs, CA 92086
Lake Morena Community Church:  29765 Oak Drive, Campo, CA 91906
Two community information centers will provide up-to-date information and will be open from 9:30 a.m. to 6 p.m. Wednesday at the following locations:
Ramona Branch Library, 1275 Main Street, Ramona, CA 92065
Valley Center Branch Library, 29200 Cole Grade Road, Valley, Center CA 92082
Any fires erupting over the period would tend to spread rapidly and be difficult to extinguish, meteorologists said.
Though the winds are expected to weaken by Friday, very low humidity will remain in the region through the weekend, keeping fire hazards high, according to the NWS.
SDG&E will provide updated notifications to customers within 24 hours of an anticipated power shutoff and again within one to four hours of a shutoff. The utility advised those who receive the notification to be prepared, making sure they have such emergency supplies as water, food, flashlights, extra batteries and cellphone battery packs.
Should any precautionary power shut-off last for more than 24 hours, the utility plans to open temporary aid centers where customers can get water and snacks, charge their cellphones, and get updates.
Residents can sign up for emergency alerts here.
With three busy days left in the season for Rolling Pumpkins pumpkin patch in El Cajon, it's not the ideal time to be without power.
"We do have a back up plan, we have a generator that can fully support us for a few days," said Alan Tawfique.
It's the first time the pumpkin patch has had to invest in a generator as a result of high winds and fire danger.
"It's a little bit of a relief knowing that we do have it, it's in our back pocket, if we need it it's here," said Tawfique.