This is an archived article and the information in the article may be outdated. Please look at the time stamp on the story to see when it was last updated.
SAN DIEGO — A family of four needs to earn more than $84,700 annually to make ends meet on a no-frills budget without government assistance in San Diego County, according to a report released Thursday by the advocacy group Center on Policy Initiatives.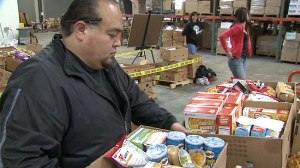 The "Making Ends Meet 2014" report says a single adult needs to earn nearly $28,000 a year to be self-sufficient.
Nearly 38 percent of households in San Diego County live below what the CPI calls the self-sufficiency standard. The organization dispensed with the federal poverty level, calling it a one-size-fits-all standard that doesn't apply in high-cost San Diego.
"More than 300,000 households in our county are living with incomes too low to meet the most basic expenses," said Peter Brownell, CPI's research director. "These are mostly working people, who are forced to rely on public or private assistance to get by."
Sandra Galindo is one of those families.
"I work as a caregiver and I also clean houses and whatever opportunity I have I take it," said Galindo.  "I receive welfare benefits, cash and food stamps and it's terrible to work all day and still depend on welfare benefits to survive."
Brownell said many San Diegans, particularly those in the high-tech and biotech industries, are highly paid. But since it's a tourist town, many more work in low-wage restaurant and hotel jobs.
According to the report, 52 percent of tourism industry employees live below the self-sufficiency standard, as do 65.2 percent of agricultural workers, 40.9 percent of construction workers and 37.7 percent of those in retail sales.
The organization said the lack of sufficient income for so many families impairs the economy because they share residences and forego services like childcare or vehicle repairs.
Expenses included in the self-sufficiency standard are housing, child care, food, transportation, health care and miscellaneous items like clothing, shoes, diapers and personal hygiene products. Child tax credits are figured in.
The federal poverty level for single adults in 2012 was $11,720, according to the CPI. For a family of four, it was $23,283.
The United Way of San Diego County and Leichtag Foundation helped fund the report, which is generated biennially.
On the same day the report was released, the mass movement Fight for Fifteen rallied outside of San Diego City College.
"No pay is not ok, no pay is not ok," chanted dozens of demonstrators.
"The minimum wage is $7 or $8, that's just not enough for us," said Galindo, who joined the protest at the last minute.  "We need to increase the minimum wage."