This is an archived article and the information in the article may be outdated. Please look at the time stamp on the story to see when it was last updated.
CAMP PENDLETON, Calif. — Three people aboard a small plane were killed Sunday when it crashed in the Santa Ana mountains, off the Ortega Highway near Lake Elsinore.
Firefighters were dispatched at 9:22 a.m. to an area near the Lookout Roadhouse restaurant, in the 32100 block of Ortega Highway, in response to a small fire. The crash site was about 35 miles east of Santa Ana, near where Orange, San Diego and Riverside County converge in rugged mountains just north of Camp Pendleton.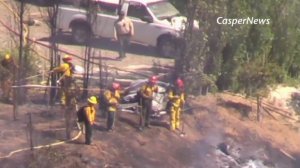 The fire was sparked by a Piper PA28 Cherokee airplane, which crashed into a cliff. Its tail number would not be released until relatives of the three people were notified, the Federal Aviation Administration reported.
The Riverside County Fire Department confirmed the fatalities.
There were no other reports of injuries or fatalities. The fire was contained to less than an acre.