This is an archived article and the information in the article may be outdated. Please look at the time stamp on the story to see when it was last updated.
FALLBROOK, Calif. — A man and two female accomplices were in custody Wednesday on suspicion of kidnapping the 3-year-old daughter of the man's ex-girlfriend in Fallbrook for a short time, authorities said.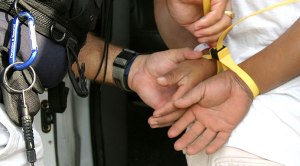 Joseph Lawrence Smith, 22, forced entry into his ex-girlfriend's residence in the 200 block of E. Dougherty Street around 5:10 p.m. Monday, according to San Diego County sheriff's Lt. Art Wager.
He was armed with a baseball bat and took the 3-year-old from a babysitter by force, throwing the toddler over his shoulder as he fled toward two women in a vehicle who were waiting for him outside, Wager said in a statement.
The babysitter followed Smith outside and tried to stop him once more but was thrown to the ground by Smith, Wager said, adding that the babysitter sustained minor injuries.
Smith eventually fled in the vehicle with the woman, who were later identified as driver Brenna Pauline Roskop, 21, and passenger Taylor Hood, 19, Wager said.
Around 10 minutes later, Smith allegedly returned the girl uninjured to her mother at her workplace in the 100 block of South Main.
Fallbrook sheriff's detectives working the San Diego Fugitive Task Force later tracked Smith, Roskop and Hood to the De Luz housing section of Camp Pendleton, where Hood lives with a relative who is an active duty Marine. The Marine was not involved in the crime, Wager said.
All three suspects were arrested and booked into the Vista jail on suspicion of charges related to kidnapping, conspiracy, burglary and assault.
The motive for the alleged kidnapping was unclear.