This is an archived article and the information in the article may be outdated. Please look at the time stamp on the story to see when it was last updated.
SAN DIEGO -- Three people were arrested Thursday after a high-speed police chase ended in Emerald Hills.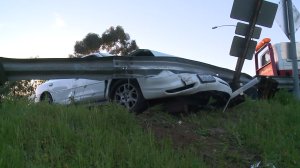 The chase, which started five miles away in the Logan Heights area, ended on the Federal Avenue offramp on eastbound state Route 94.
After their white four-door Oldsmobile crashed into a guardrail, the suspects took off running into a canyon. After a short chase, the three suspects were taken into custody.
Three guns and ammunition were recovered at the scene.