This is an archived article and the information in the article may be outdated. Please look at the time stamp on the story to see when it was last updated.
SAN DIEGO -- The second storm in as many days moved across San Diego early Thursday morning, bringing heavy showers to the lowlands and snow to the mountains before moving east.
Steady rain began falling in central San Diego around 4:30 a.m. and continued until about 6:30 a.m., when the sky cleared. There was still a chance of an occasional shower around the county for the rest of the day, but the storm front had moved east by 7 a.m., Fox 5 weathercaster Jason Handman said.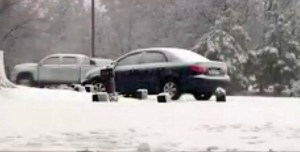 Several inches of snow fell at the Laguna Mountain Lodge on Mount Laguna and other locations above 5,500 feet.
The county will dry out over the next seven days, with temperatures climbing into the 70s over the weekend and through Tuesday, Handman said.
Several advisories were issued for the region because of the storm, including a winter weather advisory for mountain areas.
A winter weather advisory was issued because the snow was expected to be heavy enough to affect travel conditions. Residents and travelers through mountain areas Thursday were urged to carry chains and take extra food and clothing.
At local beaches, a high surf advisory issued because of big waves and a beach hazards statement envisioning a possibility of lightning are scheduled to remain in effect until noon. Three- to 7-foot surf is likely this morning, the NWS said, adding that strong rip currents are accompanying the larger than normal waves.
"Isolated thunderstorms are expected at the beaches this morning,'' the National Weather Service said. "Cloud-to-ground and cloud-to-water lightning will be dangerous for beach-goers and surfers.''
Mariners were cautioned to watch for dangerous wind speeds and wave conditions farther off the coast, with a small craft advisory in effect through this evening.
Thursday's rainfall hit an already saturated San Diego County. The Weather Service posted the following top rainfall totals for Tuesday: 0.56 inches in both Ramona and Poway; 0.51 in Campo; 0.5 in Rancho Bernardo; 0.48 in Santee; and 0.44 in Pine Valley.
California Highway Patrol reported 105 collisions from midnight to 8 a.m. Wednesday.