This is an archived article and the information in the article may be outdated. Please look at the time stamp on the story to see when it was last updated.
SAN DIEGO – The military identified Wednesday the second Marine who died following the crash of a Camp Pendleton-based aircraft during a training mission in Hawaii.
Lance Cpl. Matthew J. Determan, 21, of Maricopa, Arizona died Tuesday of injuries sustained during an MV-22B Osprey, assigned to the 15th Marine Expeditionary Unit, mishap while conducting routine training at Marine Corps Training Area – Bellows, according to USMC public-affairs Capt. Brian Block.
Determan was a rifleman assigned to 3rd Battalion, 1st Marines. His awards included the National Defense Service Medal and Global War on Terrorism Service Medal.
Also fatally injured in the crash was 24-year-old Lance Cpl. Joshua E. Barron of Spokane, Washington, according to the 15th MEU.
The accident left 20 other Marines injured. Two of them remained hospitalized this afternoon in stable condition, Block said.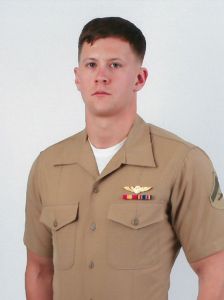 "I would like to thank all of those individuals who selflessly, and without regard to their own safety, responded on-scene at Sunday's mishap," said Col Vance L. Cryer, commanding officer, 15th MEU. "You have the undying gratitude of everyone in the 15th MEU for your heroic efforts.  Words cannot adequately express our appreciation."
"I also want to thank the medical staffs at Tripler Army Medical Center, The Queen's Medical Center, and Castle Medical Center for both your immediate response, and the compassion, professionalism, and skill you showed in caring for our Marines."
The 15th MEU departed San Diego on May 10 for a seven-month deployment.
The I Marine Expeditionary Force is heading an investigation into the cause of the crash, which took place in a training area in Waimanalo, on the island of Oahu.