This is an archived article and the information in the article may be outdated. Please look at the time stamp on the story to see when it was last updated.
VISTA, Calif. — A caregiver was convicted of two misdemeanor charges Tuesday for abusing a severely autistic 23-year-old man under his care in Valley Center.
Matthew Alexander McDuffie, 28, will be given credit for jail time served when sentenced Monday at the Vista Courthouse.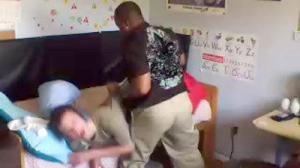 A jury found McDuffie guilty of two misdemeanor counts of willful cruelty to a dependent adult and acquitted the defendant on two other similar counts. A judge dismissed a sixth charge.
McDuffie had faced the charges as felonies.
Another man, Michael Dale Garritson, a 62-year-old registered nurse, was convicted in April of two felony counts of willful cruelty to a dependent adult likely to cause great bodily injury, four misdemeanor counts and acquitted on a seventh count. He faces up to eight years in prison when he is sentenced Monday.
Both men worked for the victim's family for more than two years, according to San Diego County sheriff's Sgt. Mark Varnau.
They were taken into custody last September after the victim's mother, Kim Oakley, gave investigators more than 2,000 individual video recordings of the defendants abusing her 23-year-old son Jamey, the sergeant said.
The family set up a video system in the victim's bedroom over a three- week period in August. The victim is severely autistic and does not speak, Varnau said.
Prosecutors said the abuse included poking the victim's eyes, bending and twisting his arms and pulling his hair.