This is an archived article and the information in the article may be outdated. Please look at the time stamp on the story to see when it was last updated.
VISTA, Calif. -- A man and a Carlsbad woman who allegedly carried out a plan to shoot her ex-husband pleaded not guilty Monday to conspiracy to commit murder and attempted murder.
Diana Lovejoy, 43, and Weldon McDavid Jr., 49, were each ordered held on $2 million bail.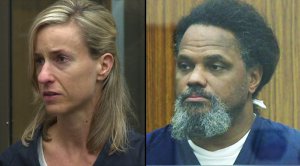 They are accused in a plot to kill Greg Mulvhill, 45, who suffered a gunshot wound when he was ambushed on an access road near Avenida Soledad in Carlsbad late on the night of Sept. 1, authorities said. That is where Lovejoy had arranged to meet him, according to Carlsbad police.
Lovejoy had reportedly been taking marksmanship lessons at the gun range where McDavid worked, according to detectives.
Police said they believed Lovejoy and McDavid planned the crime and that the latter called the victim, arranged to meet him in the alley and opened fire on him with a rifle while hiding in a patch of bushes.
According to court documents between August 1st and September 2nd Lovejoy and McDavid created a plan to commit the crime. The paperwork shows a laundry list of charges including acts to buy a phone to track the victim, determining a location to lure the victim, determining a location the victim would be buried after the murder.
Court records indicated Lovejoy and Mulvhill were in the midst of a contested divorce, and that Lovejoy had obtained a restraining order against Mulvhill, accusing him of emotional and sexual abuse.
There reportedly is also a custody battle over the couple's son, who turns four Monday.
McDavid and Lovejoy will be back in court Sept. 21 for a readiness conference and Sept. 26 for a preliminary hearing.
He faces 50 years to life behind bars if convicted, and she faces 25 years to life in prison if she's found guilty.