This is an archived article and the information in the article may be outdated. Please look at the time stamp on the story to see when it was last updated.
SAN DIEGO — Twenty-six young adults were arrested during a daylong sweep focused on methamphetamine-related crimes in the East County, authorities announced today.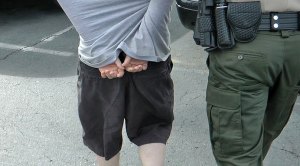 The sweep, dubbed Operation Tip the Scale, has been conducted 15 times in the past five years, but Wednesday's arrests marked only the second time offenders ages 18 to 24 were the focus, according to the county of San Diego Methamphetamine Strike Force.
The focus was chosen in an effort to intervene early with offenders who often turn to crime to support their drug addiction.
"For us, that's a critical population," said Probation Director Jason Druxman. "Younger offenders typically aren't as far along down the road, in terms of drug use, so they are more open to change."
During the sweep, more than 100 officers from law enforcement agencies and the Metropolitan Transit System patrolled known hot spots for drug-related crimes in Santee, Lakeside, El Cajon and La Mesa, and the trolley line that connects each of the communities. They also checked in on probationers and parolees to see if they were in compliance with the terms of their release.
Of the 26 arrested, 10 were taken into custody on suspicion of felonies and 16 were for misdemeanors, authorities said, noting two people were taken directly to drug treatment facilities instead of jail.
This week's arrest came just one day after the county released its latest "Meth Report Card," which found that 2012 was the second-worse for meth-related deaths in the San Diego area since record keeping started in 1995.
The county said 217 meth-related deaths were recorded in 2012, second only to 2005's tally of 245. Numbers for last year are not yet available.
The county has set up a hotline for residents to report meth-related crimes or to seek information about treatment options. The number is (877) No-2- Meth, or (877) 662-6384. Residents may also visit www.no2meth.org.