This is an archived article and the information in the article may be outdated. Please look at the time stamp on the story to see when it was last updated.
SAN DIEGO — Police searched Tuesday for the owner of a luxury Italian sports car that crashed along a La Jolla roadside and was abandoned by its two occupants, reportedly only hours after it was bought for almost a quarter of a million dollars.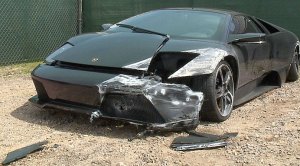 Officers found the banged up 2008 Lamborghini Murcielago on the side of La Jolla Village Drive near La Jolla Scenic Drive North about 11:45 p.m. Monday, according to San Diego police.
Witnesses reported seeing the car speeding on Interstate 5 before it flew off the La Jolla Village Drive exit and crashed, police said, adding that witnesses also saw a man and a woman exit the car.
Officers told news photographer Paul Anderegg that they found paperwork in the car showing it was purchased for almost $220,000 just hours before the crash. Police said they were staking out an address listed on the paperwork in hopes of finding the driver.
The driver of the car could face a misdemeanor hit-and-run charge, police said.