This is an archived article and the information in the article may be outdated. Please look at the time stamp on the story to see when it was last updated.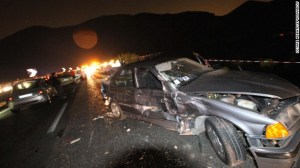 CNN – A bus returning pilgrims from a weekend visit to a Catholic shrine went off a bridge in southern Italy on Sunday, leaving at least 36 dead, including some children, officials said.
Eleven people were hospitalized in serious condition, Luca Cari, a fire spokesman, told CNN. The bus was traveling east of Naples in Avellino province, according to the Italian news agency ANSA.
While Cari reported 36 dead, Pasquale Picone, a police official in Avellino, reported at least 37 people were killed. More bodies could be found in the wreckage, Picone said. Picone did not have an exact figure for the number of passengers on the bus, though reports have varied from as few as 40 to as many as 50 aboard.
The passengers had participated in a weekend pilgrimage to the Padre Pio shrine in San Giovanni Rotondo.
Andrea Regione, a photographer for the Corriere dell'Irpinia newspaper, told CNN that the bus went off a bridge and fell roughly 30 meters (almost 100 feet) into a heavily wooded area below.
Photos from the scene showed a broken guardrail and the bus laying on its side.
Another photo appeared to show a line of bodies — each covered in a white sheet.