This is an archived article and the information in the article may be outdated. Please look at the time stamp on the story to see when it was last updated.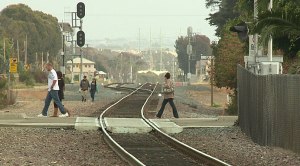 CARLSBAD, Calif. – An allegedly drunken 23-year-old man was hit by a passenger train when he tried to cross the tracks in Carlsbad, but sustained only scrapes and bruises, a sheriff's deputy said.

"The man ignored the flashing lights and crossing arms at the tracks on Carlsbad Village Drive near State Street shortly after midnight," sheriff's Deputy D. Patterson said.

The man was struck by a southbound train and thrown about 20 feet, Patterson said. He was taken to Scripps Memorial Hospital La Jolla for an evaluation.
Anyone with information is asked to call the Sheriff's department's non-emergency line at 858-565-5200.