This is an archived article and the information in the article may be outdated. Please look at the time stamp on the story to see when it was last updated.
SAN DIEGO — Two women were flown to a hospital following a boating accident at the El Capitan Reservoir Sunday, authorities said.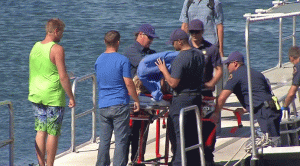 Four people were riding an inner tube and being pulled by a boat at El Capitan Reservoir shortly after 2 p.m. when they were thrown off, according to park rangers.
The riders were thrown into several rocks, witnesses told Fox5.
Two fire engines and two medic units were sent to the scene, and fire officials later requested an additional engine, according to the Lakeside Fire Protection District.
Two women were taken to Sharp Memorial Hospital, a Heartland Fire & Rescue dispatcher said. They suffered minor to moderate injuries.