This is an archived article and the information in the article may be outdated. Please look at the time stamp on the story to see when it was last updated.
Oh, the unlikely stomach bug that haunts you in the night! The one after you've had a great sushi dinner that you would have loved to taste only once. Okay, TMI, I know. But seriously, two weeks until race day, and I have to get sick? No fun!
Luckily, all of the long training days are out of the way, and I'm currently in "taper" mode. Phew. The only issue really is that I'm weak, drained, dehydrated, and tired from being so sick. I'm now 8 hours past being tied to my bed or the bathroom and my stomach can only handle Gatorade and apple sauce, but all I want to do it run.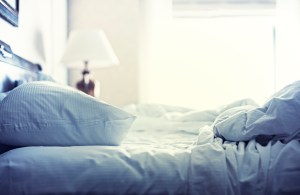 WHAT HAPPENED?
Still not sure if it was food poisoning or if there was something going around, but whatever it was, it wasn't pretty. I was out of work for two days and laying in bed without any exercise or nutrition, which is not good for marathon training. A little over 24 hours, I started to feel a little better, but still wanted to play it safe (which is not my usual game plan), so I worked on emails and did little things around the house. No running for me.
BACK ON THE PAVEMENT
The problem with recovery – whether it be sickness or too much exercise – is we never want to let our bodies heal. We want to move quickly on to the next event and get better. I do this so often, but this time I decided to give my body the time it needed to feel ready to move again.
I trained hard for the marathon for the past 3 months, and now it's time to get to the starting line healthy. Instead of going on for my scheduled run the next day, I laid low, took it easy and will be back on the road in no time. Hydrate, hydrate, hydrate!