This is an archived article and the information in the article may be outdated. Please look at the time stamp on the story to see when it was last updated.
TIJUANA, Mexico — Two San Diego teenagers who took a Black Friday trip to Ensenada were shot and killed execution-style in a triple homicide Sunday morning at a Tijuana apartment complex, according to family members, school officials and Mexican media reports.
The victims were Christopher Alexis Gomez, 17, a football player in his senior year at O'Farrell Charter High School in Encanto, and Juan Suarez-Ojeda, who graduated from Ingenuity Charter School in Encanto earlier this year, the San Diego-Union Tribune reported.
The third victim was an 18-year-old Tijuana teenager, a cousin of Gomez told the Union-Tribune. She said the three young men went together to a barbecue in Ensenada on Friday and were supposed to return that night.
The three teens were tortured before they were shot to death on Sunday, a Tijuana police detective told Gomez's family, the cousin said.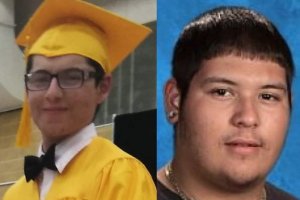 The teens were shot around 5 a.m. Sunday at an apartment complex in south-central Tijuana, according to Tijuana media reports. When police arrived, they found the bodies of the three teens dressed in their underwear in front of an apartment door. Investigators believe they had been forced to kneel and then each one was shot in the head execution-style.
As of Thursday, the investigators had no indication of what led up to the killings.
Faculty at O'Farrell set up a GoFundMe site for both San Diego families.
A large group of students gathered at a park in Encanto Thursday to remember them.
Read more about the case from the San Diego Union-Tribune.