This is an archived article and the information in the article may be outdated. Please look at the time stamp on the story to see when it was last updated.
SAN DIEGO – Two Marine jet fighters collided over water off the coast of San Diego Wednesday, but both pilots survived, Marine officials reported.
The two single-seat F/A-18 Hornets were participating in a training exercise when they had a mid-air collision at about 11:43 a.m., according to a news release from Marine Corps Air Station Miramar.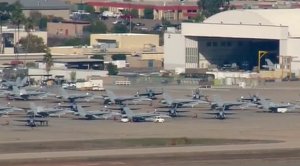 One of the pilots ejected safely from the aircraft. A search-and-rescue unit from the USS Carl Vinson pulled that pilot from the water at about 12:41 p.m. The other pilot landed safely at Naval Air Station North Island. Both pilots were taken to medical facilities and were in stable condition.
The two planes were attached to the Third Marine Aircraft Wing based at MCAS Miramar.
The cause of the collision was under investigation, the Marines said.