This is an archived article and the information in the article may be outdated. Please look at the time stamp on the story to see when it was last updated.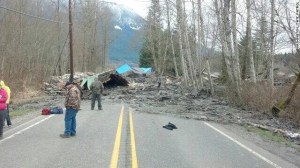 (CNN) — A landslide in northern Washington state killed two people, destroyed at least six houses and cut off a small town, authorities said Saturday.
The Snohomish County Sheriff's Office said, in addition to those dead, five adults and a 6-month-old child were rescued and sent to local hospitals.
The first reports of the landslide came in around 10:45 a.m. (1:45 p.m. ET) along State Road 530, the sheriff's office said.
Photos provided by the Washington State Patrol show floodwaters and sprawling debris covering a rural patch of that two-lane road, framed by woodlands and snow-capped mountains.
Groundwater saturation tied to heavy rainfall in the area over the past month was blamed for the landslide, which authorities say measured at least 45 yards wide.
Because it blocked SR 530, the landslide cut off Darrington, a town of about 1,350 people located 75 miles northeast of Seattle and within close proximity to Round Mountain, Whitehorse Mountain and White Chuck Mountain. Part of the Stillaguamish River also was blocked.
The sheriff's office noted that authorities are still assessing exactly how many structures the landslide affected, beyond the six confirmed so far.
A number of agencies have responded, including the state transportation and emergency management departments, the U.S. Navy and fire departments across Snohomish County.
Upon arriving at the scene, firefighters and state troopers heard calls for help, trooper Mark Francis said.