This is an archived article and the information in the article may be outdated. Please look at the time stamp on the story to see when it was last updated.
LA MESA, Calif. — A man wounded in a car-to-car shooting on eastbound Interstate 8 in La Mesa early Sunday was not expected to survive and a second victim was hospitalized in serious condition, authorities said.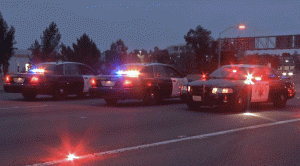 The shooting appeared to have occurred underneath the state Route 125 overpass, La Mesa Police Department Lt. Matt Nicholass said.
The victim not expected to survive was shot in the head. The other victim was shot in a shoulder, Nicholass said.
The California Highway Patrol received a call at 3:38 a.m. of a vehicle blocking a portion of Interstate 8 at state Route 125.
La Mesa police received a related call minutes later from Grossmont Hospital "reporting it had two subjects show up in the emergency room with gunshot wounds," Nicholass said.
Eastbound Interstate 8 was closed from 70th Street in La Mesa to the El Cajon Boulevard off-ramp in El Cajon for several hours, Nicholass said. Vehicles were later allowed to enter the freeway at Severin Drive.
The shooting remains under investigation by the CHP and La Mesa police.
The names of the victims were not released.
The incident remains under investigation.