This is an archived article and the information in the article may be outdated. Please look at the time stamp on the story to see when it was last updated.
LEMON GROVE, Calif. — A driver and a passenger were seriously injured in a rollover crash in Lemon Grove early Monday, authorities said.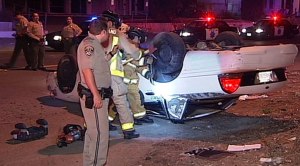 The crash at Federal Boulevard and San Miguel Avenue occurred around 2 a.m., according to San Diego County sheriff's Sgt. Luis Chavez.
A 2001 Ford sedan was reportedly chasing another vehicle at about 100 mphy when the driver lost control and it rolled over and landed on its roof, witnesses said. No other vehicles were involved.
The driver of the sedan was able get out without help but firefighters cut the vehicle open to free the passenger, who was unconscious, Chavez said. Both victims were taken to Scripps Mercy Hospital with serious injuries.
Police said that the cause of the crash was under investigation.