This is an archived article and the information in the article may be outdated. Please look at the time stamp on the story to see when it was last updated.
SAN DIEGO — Two bodies were found Tuesday inside a vehicle submerged in Otay Lakes.
Shortly before 7 p.m., Chula Vista police received a call about the submerged vehicle near the 13800 block of Otay Lakes Road.
It was not known for how long the blue BMW was underwater.
"Chula Vista Police Department has an ongoing investigation right now for two missing persons," a California Highway Patrol officer said. "We don't know if this is somehow connected to those missing persons but that's what led for their unit to come overhead and search the area."
Around 2:15 a.m. Sunday, Milyn Elizabeth Chew, also known as Milyn Navarro, left her boyfriend's home in San Ysidro and drove to her family's house in eastern Chula Vista, according to police.
Later that morning, her family found Milyn's car parked at the home and her keys hung up inside the house. They could not find Milyn, whose phone went straight to voicemail. Milyn was supposed to work later but never showed.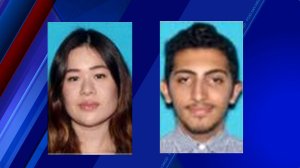 Phone records show she had contact with Aser Elsharkawy around 2:30 a.m. that morning. Aser was also reported missing by his family and has not shown up at work.
Both families say it is unusual behavior. The relationship between the two, other than being quasi-coworkers, was not known.
Chew is described as an Asian/Hispanic woman, 5-feet-3-inches, weighing 130 pounds, with long, wavy brown hair and brown eyes.
Aser's vehicle is described as a blue BMW 3 series with California license plate No. 6PWS494.
Anyone with information should contact Chula Vista police at 619-691-5151 or Detective Molina at 619-691-5178 or amolina@chulavistapd.org.
Check back for updates on this developing story.