This is an archived article and the information in the article may be outdated. Please look at the time stamp on the story to see when it was last updated.
OCEANSIDE, Calif. — The pending divorce and separation from his wife apparently led an Oceanside man to kill his soon to be ex-wife before committing suicide, a neighbor said Thursday.
Their bodies were discovered when Oceanside Police officers went the couple's condo on the 400 block of Edgehill Lane in Oceanside. They were responding to a request from the woman's brother to check on his sister — to make sure everything was alright. No one had heard from the couple since Saturday.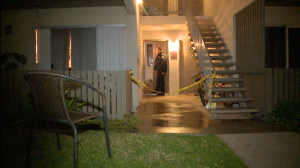 When no one came to the door, officers peaked through a window and saw a woman's body on the floor. It turned out to be 50-year-od Cindy Carter. Her husband David was found a short distance away hanging from a chandelier. Police are calling it a murder suicide.
Katie Colladay, a neighbor who described the couple as "family," said Carter had filed for divorce a few months ago. She said they had been married for seven years.
"They got along real well, but one day she was ready to move on and filed for divorce, he couldn't take it that she had found someone else, their divorce was going to be final next month," said Colladay.
Colladay suspected something wrong when the victims failed to show up for a Super Bowl party on Sunday. According to her, she called police to see if they would check on her friends, but they turned her down because she wasn't a family member. That's when she got a hold of Carter's brother who then placed the call to police.