This is an archived article and the information in the article may be outdated. Please look at the time stamp on the story to see when it was last updated.
SAN DIEGO — Police arrested two people in connection with the fatal shooting in May of a barber in Oak Park, officials said.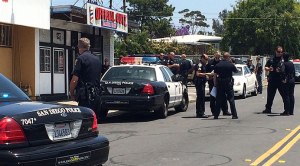 Lamar Canady was shot several times on May at Official Cutz, a barbershop at 54th and Redwood streets.
Wednesday at 5 a.m., Kansas City police and San Diego homicide detectives arrested Peter Johnson, 47, in Kansas City, Mo. He was booked into jail and was awaiting extradition to California.
Meanwhile, San Diego police and FBI agents arrested Ian Patrick Guthrie in the 9800 block of Via Monzon in San Diego.
Neighbors in the Rancho Penasquitos neighborhood say Guthrie moved in a few months back and was renting the home. Many also said the house was quiet and they hardly saw Guthrie out and about.
The 38 year old was booked into San Diego County Jail.
Police did not say how they connected the two men to Canady's murder.