This is an archived article and the information in the article may be outdated. Please look at the time stamp on the story to see when it was last updated.
SAN DIEGO - Two San Diego men were arrested on suspicion of murdering a Camp Pendleton Marine in the Gaslamp Quarter, police said Sunday.
Officers arrested Jose Oscar Esqueda, 30, and Jeff Shai Holliday, 24, at about 11 p.m. Saturday, said San Diego Police Department Lt. Todd Griffin.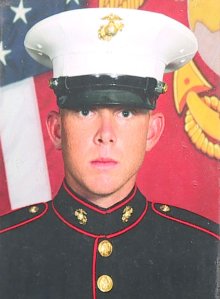 Both are suspected of murdering Ryan Evan Harris, a 21-year-old Northern California native, in an apparent fight that broke out on Island Avenue in the Gaslamp Quarter early Friday morning.
Police dispatchers received a report of the fight and officers responded to the scene, finding Harris down on the sidewalk with what appeared to be stab wounds in his upper torso, Griffin said.
Despite efforts from officers and paramedics, Harris died at the scene.
Harris' grandparents told FOX 40 their grandson was trying to break up the fight when he was stabbed in the neck.
While tending to the Marine, police received another report of a second stabbing victim about a block away on J Street, Griffin said. Police quickly determined the second victim, who was not believed to be a Marine, was injured in the same brawl on Island Avenue.
Paramedics took the second man to a hospital for treatment and he was expected to survive, Griffin said. He was reportedly stabbed in the back and chest.
Esqueda was booked into county jail for murder, attempted murder, and two counts of assault with a deadly weapon.  Holliday was booked into county jail for murder, assault with a deadly weapon, battery, and probation violation.