This is an archived article and the information in the article may be outdated. Please look at the time stamp on the story to see when it was last updated.
LA MESA, Calif. — The cause of a two-alarm fire a liquor store in a La Mesa shopping center that caused an estimated $800,000 in damage was under investigation Wednesday.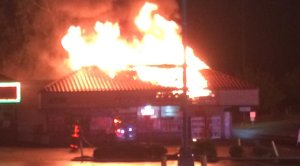 The fire at La Mesa Market & Liquor on Lake Murray Boulevard near El Paso Street broke out for unknown reasons around 11:15 p.m. Tuesday, according to Heartland Fire & Rescue.
Crews worked to extinguish the blaze from the outside of the building due to heavy fire conditions had it knocked down in about 20 minutes and kept it from causing major damage to the adjoining businesses, Heartland Fire & Rescue spokesman Sonny Saghera said. One firefighter suffered a minor injury and was taken to Grossmont Hospital to be evaluated.
Lake Murray Boulevard was closed in the immediate area, but was later reopened, according to La Mesa police.