This is an archived article and the information in the article may be outdated. Please look at the time stamp on the story to see when it was last updated.
SAN DIEGO — Mayor Bob Filner heralded the opening of the first duty-free store at Lindbergh Field Monday as an example of what he wants the city to become.
The shop is located in Terminal 2, which serves passengers flying to Canada, Japan, Mexico and the United Kingdom. Passengers will be able to purchase chocolate, liquor, perfume, tobacco, and other common duty-free products, according to the airport.
"It's a symbol of how we want to change San Diego," Filner said. "We want to be a world class city with world class education, world class art, but also a world class airport. And we're going to work very hard on building those international relations so our city becomes truly cosmopolitan."
Duty-free retail outlets sell merchandise exempt from certain taxes and fees, under the condition that they are taken out of the country.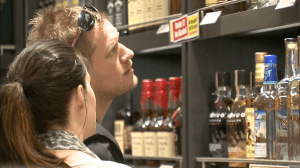 Duty Free Americas San Diego LLC will operate the business under a seven- year contract approved by the San Diego County Regional Airport Authority in July.
The airport authority has revamped many of its concessions recently. Among recent additions are San Diego-centric restaurants like Phil's BBQ, Bankers Hill Bar and Restaurant, and Stone Brewing Company.