This is an archived article and the information in the article may be outdated. Please look at the time stamp on the story to see when it was last updated.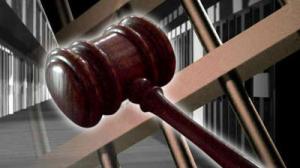 SAN DIEGO — A judge kept bail at $1 million Wednesday for an Arizona woman accused of fatally beating a female stranger at a Sorrento Valley hotel over the Labor Day weekend.
Donna Louise Powell, 40, is charged with second-degree murder in the death of 42-year-old Pamela Guziak.
Powell allegedly inflicted a serious head injury on Guziak during a Sept. 1 fight at a Hyatt extended-stay  hotel in the 10000 block of Pacific Mesa Boulevard, where both women were staying. Authorities said Powell was vacationing at the time and Guziak had been living at the hotel for several months.
On Sept. 2, hotel employees found Guziak unconscious on the floor of her room. Medics took her to a hospital, where she died of a brain hemorrhage several days later, San Diego police Lt. Jorge Duran said.
During Wednesday's bail review, defense attorney Michael Artan told Judge Laura Alksne that Guziak grabbed his client and told her dog to attack the defendant.
Artan — arguing for bail to be reduced to $100,000 — said Powell possibly acted in self-defense during her dispute with Guziak.
But Deputy District Attorney Dennis Panish said the defendant went to the victim's room after the two exchanged words.
Powell got into Guziak's room after knocking on the door and announcing "housekeeping," then proceeded to grab her by the hair and slammed her into a mirror, according to the prosecutor.
"She (Powell) said, `This is what you deserve, bitch,"' Panish told the judge.
Officers responded to an emergency call reporting the fracas but made no immediate arrests.
Detectives obtained an arrest warrant for Powell on Nov. 1. She was arrested two weeks later in Glendale, Ariz., where she lives with her husband and at least one child.
Powell will be back in court Dec. 5, when a preliminary hearing date is expected to be set.
The defendant faces 15 years to life in prison if convicted.
By Kelly Wheeler, City News Service