This is an archived article and the information in the article may be outdated. Please look at the time stamp on the story to see when it was last updated.
CHULA VISTA, Calif. -- A woman accused of running down a motorcyclist with her car during a fit of road rage on a South Bay freeway was ordered held on $1 million bail.
Darla Renee Jackson, 25, pleaded not guilty Tuesday to a murder charge and faces 15 years to life in prison if convicted, prosecutors said.
Jackson was heading north on Interstate 5 in Chula Vista when she got angry with a man riding a red Ducati motorcycle near her Nissan Altima about 5:30 p.m. Thursday, according to the California Highway Patrol.
The rolling altercation continued as the two passed through National City and merged onto eastbound State Route 54, CHP public affairs Officer Jake Sanchez said.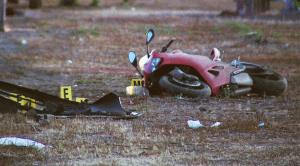 Near Sweetwater Road, Jackson allegedly rammed the motorcycle from behind and then ran over the 39-year-old rider, identified by friends as Zacharias Buob, a chief petty officer in special operations for the U.S. Navy.   Paramedics took Buob to a hospital, where he was pronounced dead. The reason for the roadway dispute was unclear.
Jackson was booked into Las Colinas women's jail in Santee on suspicion of murder and was being held without bail pending arraignment. Authorities asked any witnesses to the crash or what led up to it to call CHP traffic investigator Brad Clinkscales at 619-220-5492.
Jackson is due back in court July 10.
Prior to Tuesday's hearing, about 200 motorcyclists rode in a large group from Denny's parking lot in National City to the Chula Vista courthouse in support of Buob's family.
"Regardless of why the altercation started," said Brittnay Willow, " a car should never be used a murder weapon."
She along with friends, family, fellow shipmates and total strangers made the short ride which turned into a rally outside of court.  Court documents reveal a Jackson had a history of making angry threats. Fox 5 discovered 4 restraining orders against her. Two by former boyfriends, according to a family friend. that cited hundreds of threatening phone calls and text messages, threatening that she would 'kill them an ruin their lives.'
100's of motorcyclist support fallen Navymen at courthouse in road rage case #fox5sandiego pic.twitter.com/42JECbEdZE

— Misha (@Mishadibono) June 2, 2015
[facebook url="https://www.facebook.com/1592651704338732/photos/a.1592652184338684.1073741827.1592651704338732/1593633124240590"]