This is an archived article and the information in the article may be outdated. Please look at the time stamp on the story to see when it was last updated.
SAN DIEGO – A trial date was set Wednesday for a young woman accused of taking part in a violent 72-hour crime spree with her much older husband, a former firefighter who ended up being killed in a Halloween-night gun battle with San Diego police.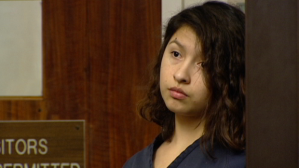 Cindy Altamirano Garcia, 18, waived her right to a speedy trial and pleaded not guilty to conspiracy, attempted murder of a peace officer and other counts, including an allegation that she personally used a gun.  Her trial date was scheduled for October 23.
Philip Martin Hernandez, a former Cal Fire firefighter in Blythe who retired last July, started dating Garcia when she was 16. As a result, at the time of his death he was facing four felony counts of having sex with a minor.
Blythe police Detective Timothy Cornwell testified at a preliminary hearing earlier this month that Garcia called authorities last May, saying she was "uncomfortable" living with Hernandez because he was possessive and that she wanted to go home to National City.
Garcia told the detective that she had moved to Blythe with Hernandez after he promised to send her to photography school.
Cornwell said Hernandez told him that he was having consensual sex with Garcia in an "arranged marriage."
Renato Palma testified that he was carjacked by Hernandez and Garcia about 1:20 p.m. last Oct. 29 as he slept in his vehicle. Palma said Hernandez pointed a gun at his head and ordered him to lie down on the front seat.
The victim said Garcia opened the passenger door and held what felt like a gun to his head, telling Hernandez, "If he (Palma) hurts me, I'll shoot him."
Palma said Garcia handcuffed him and pulled him out of his car, then she and Hernandez drove away after setting their car on fire.
Later on, an off duty police officer was shot in broad daylight outside of an ATM in Escondido.  That's when investigators realized all the crimes may be connected. In several of the incidents, the victims described the assailant as a person dressed as a cop.
The manhunt ended in Barrio Logan when the couple was stopped driving a white van on Oct. 31. According to police, Hernandez pulled over and jumped out of the van with a rifle and began shooting.
He was shot dead by officers.
Garcia, who also had a gun, got out of a passenger-side door and was arrested, said Deputy District Attorney Jim Koerber. She and Hernandez were both wearing law enforcement-style vests at the time of the 9:30 p.m. shootout, according to police.
Deputy Public Defender Courtney Cutter told a judge that Garcia was not a willing participant in the conspiracy and did not have the intent that Hernandez did.
Cutter said that Garcia loved Hernandez and was just "along for the ride."
Garcia will be back in court May 28 for a readiness conference.