This is an archived article and the information in the article may be outdated. Please look at the time stamp on the story to see when it was last updated.
MISSION BAY, Calif. – Recovery efforts got underway at Mission Bay Saturday evening, after a lone kayaker went missing earlier that afternoon.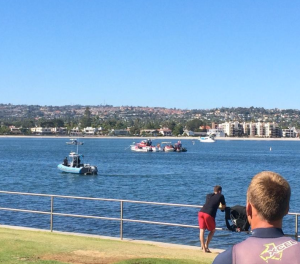 "We don't have any indication that there was a collision but that it was a single gentleman on his kayak and the kayak flipped in the water and he went down," San Diego Lifeguard Lieutenant John Sandmeyer said.
Several 911 calls were made from Sail Bay in Mission Bay around 3:00 p.m. Witnesses said a young man's kayak capsized and the kayaker was last seen holding on to his life vest, but eventually let go.
Initially, some good Samaritans tried to rescue the teenager, but it was too late.
"Some people did come to his aid and attempted to make a rescue but the problem was he sank too quickly," Lt. Sandmeyer said.
San Diego Lifeguards and San Diego Fire and Rescue were at the scene in minutes. San Diego Harbor Police and city Lake Rangers showed up with additional boats and divers to find the man.
The victim is described as a 17-year-old male, but it was not clear if he was from San Diego. He rented the kayak from the Catamaran Resort Hotel but it was not made clear if he was a guest at the hotel.
Lifeguards said he was with family friends at the time, but had been kayaking alone.
"He was with a group and they're saying her didn't have any experience and he was not a competent swimmer," Lt. Sandmeyer explained.
After an hour had passed, lifeguards say search and rescue became recovery efforts.
A diving rescue group focused on a 400 by 400 foot area in 12 to 15 feet deep water, based on witness reports of where the victim was last seen.
"We're [also] using side scanning sonar at this point, which is able to detect very small profile items on the bay surface and bay bottom," Lt. Sandmeyer said.
Recovery efforts ended around 8:30 p.m. Saturday and were expected to pick up back again Sunday morning.