This is an archived article and the information in the article may be outdated. Please look at the time stamp on the story to see when it was last updated.
SAN DIEGO — More than a dozen suspected illegal immigrants were detained along Interstate 5 in Carmel Valley early Monday, police said.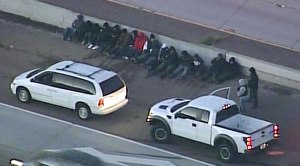 An officer spotted a van stopped on the side of the southbound side of freeway near Carmel Valley Road around 4:30 a.m., according to San Diego police. The van was full of people who had wet and sandy shoes and pants as if they recently been in the ocean, police said.
The officer determined that some of people in the van didn't have documents showing that they were legally in the United States. Several other suspected undocumented immigrants were sound near the van hiding in bushes, police said. In all, 16 people were taken into custody.
The detainees were handed over to the U.S. Customs and Border Protection. No other details were immediately released.