This is an archived article and the information in the article may be outdated. Please look at the time stamp on the story to see when it was last updated.
SAN DIEGO — The next big thing in skateboarding might just be an eighth grader from National City.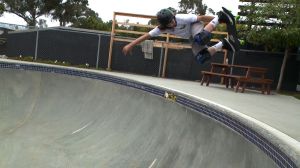 Cory Juneau, 13, put his best tricks on display March 2 in the Vans Amateur Combi Pool Classic in Orange, Calif. and received a big treat when he won the 14 and under division and a check for $2000.
"I was shocked," Juneau said. "I didn't think I would win because I hadn't skated as well as I had the previous years and there was much better competition this year."
His victory, in his third time competing in the event, earned him a berth in the 15 and over division an hour later, where he finished third and won another $800.
"I was kind of having fun at the end because I already got the sweat off my shoulder," Juneau said with a smile.
Juneau started skating at age seven for two reasons: one, his older brother Kyle wanted to try it. And two, his mom didn`t want him on a trampoline.
"My husband wanted to get the trampoline. I really didn't," Dianna Juneau said. "So I mentioned the skateboards and my husband said that'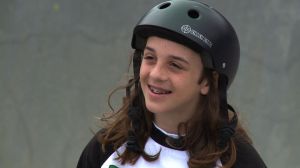 s too dangerous. But we lived up the street from a skateboard park and he took the kids there one day and they fell in love."
Within a month, Juneau told his mother that he wanted to a professional skateboarder and hasn't wavered since.
Juneau skates every day for about two hours, but he doesn't have a coach or trainer. His mom said he continues to develop organically, at his pace, without pushing from parents or outsiders.
Skateboard sponsor Creature provides Juneau with new decks, because he said he burns through about one each week.
One day, he wants to skate at the pro level – perhaps as soon as next year, but only if he feels he can do well.
"They're so much better and on a different level," Juneau said. "I want to actually compete with them with some potential like top 10 and stuff. That's my goal."
At this rate, it appears very attainable.
.