This is an archived article and the information in the article may be outdated. Please look at the time stamp on the story to see when it was last updated.
SAN DIEGO — A 12-year-old girl was forced into a vehicle by a man in his 40s at gunpoint Monday night in San Diego and sexually assaulted, police said.
The kidnapping occurred near 47th and Market streets around 7 p.m. Police said a man wearing a black mask forced the girl into his vehicle at gunpoint. He then drove her to the tunnels of the watershed at 47th street, where he raped her.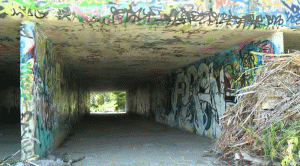 The girl got away or was let go after the attack and she was taken to Rady Children's Hospital.
The suspect is described as a middle-aged man wearing a black mask, shirt and pants and was armed with a handgun. He was driving an older black sport utility vehicle or van.
On Tuesday, the Chollas View area was on high alert.  Angelo Morales said he was born and raised in the neighborhood and had never heard of a similar sexual assault.
"This kind of thing only happens on TV or in the movies," said Morales.  "Stuff like this is why we have to step up together in the community."
"It makes me feel scared for my boys and for my nieces and my cousins,"  Morales said. "I feel scared for them when stuff like that happens in this neighborhood."
After school, staff of Gompers Preparatory Academy guarded the intersection near where the young girl was kidnapped.  They told Fox 5 students had been informed of the crime and prepped on how to protect themselves.
Tuesday afternoon, members of the non-profit group Groundworks San Diego cleared away the brush around the scene of the crime.
"It's been a real haven for rapes, murders and other illicit activity," said Leslie Reynolds.  "I'm devastated to hear about this little girl.  This is why we're here, the reason why we're doing this."
A grandmother of three said she never lets her grandchildren out of sight.
"I tell them if I'm going to bathroom at the park, you're coming with me.  You just never know," she said.