This is an archived article and the information in the article may be outdated. Please look at the time stamp on the story to see when it was last updated.
SAN DIEGO – A gorilla that gave birth via cesarean section at the San Diego Zoo Safari Park nearly two weeks held her baby for the first time Monday.
Imani physically met her daughter Monday after animal care staff placed the 12-day-old unnamed gorilla on a soft hay pile, zoo officials said.
"Imani has been extremely attached, holding and constantly carrying around the young gorilla," zoo officials said.
The young gorilla was picked up, carried and cradled around her mother's bedroom area. She clung and held onto her back as she walked around.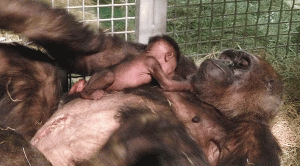 Animal care staff let other members of the gorilla troop have visual contact with Imani and the baby through a protective mesh barrier.
"Initially she was just carrying the baby, she never set the baby down," said Andrew Stallard, animal care supervisor at the San Diego Zoo Safari Park. "About three hours in, she began nursing the baby. After about a five-minute bout, the baby fell asleep, which is exactly what we were looking for, so we were really excited!"
The baby gorilla was observed nursing, but staff will continue to closely monitor the infant to make sure she is getting the nutrition she needs. This is the first baby for Imani and the 17th gorilla to be born at the Safari Park. The Safari Park is home to eight gorillas, including the new baby.
The young gorilla was hospitalized immediately following the birth. She initially showed complications believed to be related to the difficult labor. She received oxygen and supplemental fluids and later underwent treatment for a collapsed lung and pneumonia. Animal care staff released her from the hospital on Friday after she showed signs of improvement.