This is an archived article and the information in the article may be outdated. Please look at the time stamp on the story to see when it was last updated.
SAN DIEGO – Authorities announced Tuesday an increased reward of $11,000 for information leading to the arrest of a Marine accused of murdering the daughter of a former police detective.
San Diego County District Attorney Summer Stephan and other local law enforcement officials made an international plea Tuesday for help in finding Raymond "RJ" McLeod, who is accused of killing his girlfriend Krystal Mitchell in 2016. He is believed to be in Central America or Mexico.
"We're not going to let the defendant run from justice and get away with murder," Stephan said. "We're asking anyone with information to come forward so McLeod can be captured, returned to San Diego and held accountable for his brutal crime. Let us not forget the innocent victim who lost her life."
Mitchell's mother, former Det. Josephine Funes Wentzel, has been at the forefront of the search for her daughter's alleged killed.
"Catching McLeod will not bring my daughter back, but would prevent this monster from killing someone else's mother, daughter or sister," she said at a news conference at the D.A.'s downtown office.
Mitchell was pronounced dead at an apartment of an acquaintance in the 7600 block of Mission Gorge Road in Allied Gardens early June 2016. She was from Phoenix and had been visiting friends in San Diego. The 30-year-old mother of two was last seen with McLeod, who was also from Phoenix.
Early in the investigation, San Diego police named McLeod a "person of interest" and said his car was abandoned near the San Diego-Mexico border.
McLeod, 34, also goes by the name "RJ," "Matt" and "Mateo" and was described as white, muscular, 5-feet-11 inches tall, weighing 215 pounds and with a birth date of October 3, 1983.
Last year, the U.S. Marshals Service said that McLeod "may hold the key" to information about Mitchell's death.
"We need the public's help in locating him so we can bring some sense of closure to Krystal's family," Deputy U.S. Marshal Frankie Sanchez said in March 2017.
"He has a tattooed, muscular physique and is known to frequent gyms," Sanchez said. "He is also known to use cocaine and marijuana, and seek entertainment in strip clubs."
A television station in Belize reported last September that McLeod had been spotted there and in neighboring Central American countries including Honduras and Guatemala.
Mitchell's mother, the former detective, told the Belize news outlet that her personal investigation has led to contacts in the small English-speaking country on the Caribbean Sea who have seen McLeod "all over Belize." She said it's believed he stays in areas near the coast, like Punta Gorda, where he can take boats in and out of the country without attracting attention.
"He's a charming man from what I understand," Josephine Funes Wentzel told News 5 in Belize. "I believe she was killed because she was trying to get away from him. I (have) gotten contacted by several women who said that he's very dangerous … so if he approaches you, he would approach you with charm but he's very dangerous."
In late 2016, the U.S. Embassy in Belize issued a bulletin to law enforcement officials and media outlets there to be on the lookout for McLeod.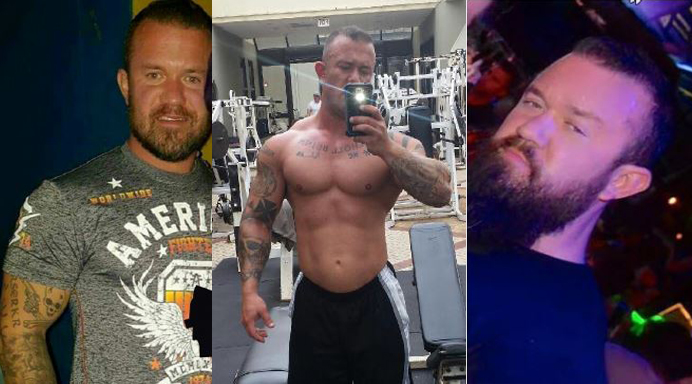 During Tuesday's news conference, Wentzel warned the public of McLeod stating he has a history of domestic violence and prays on single mothers.
"[McLeod] loved his son. That's a quality every single mom will look for man. Everything appeared to be right about him. He was stable and an honorably discharged Marine," said Wentzel, who added that her daughter came from a military family. "There was nothing to alert her that he was a terrible person."
"I know that finding him is not going to bring my daughter back, but it's going to save the life of your daughter, your granddaughter, your mother," said Wentzel, the former police detective.  "I've been on the side of giving the message to parents. Sometimes I didn't want to give them a message that their child has been murdered. Now, I'm on this side and received that message."
The United States Marshals Service is offering a $10,000 reward in addition to Crime Stoppers offering a $1,000 reward for any information that leads to the arrest of McLeod.
Anyone with information was asked to call the San Diego Police Department non-emergency line or Crime Stoppers at 888-580-8477.
A vigil is scheduled for tonight in honor of Krystal Mitchell

6:30 p.m.
San Diego County Admin Buildinghttps://t.co/MLSAwy3Shn #JusticeforKrystalFaye pic.twitter.com/lMf30e8NON

— FOX 5 San Diego (@fox5sandiego) April 3, 2018