This is an archived article and the information in the article may be outdated. Please look at the time stamp on the story to see when it was last updated.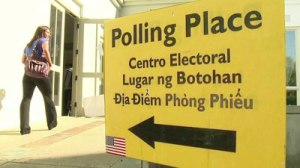 SAN DIEGO — Out of 40 people who filed papers to run in the Nov. 19 special election for mayor of San Diego, only 11 candidates qualified for the ballot, the City Clerk's office announced Tuesday.
The list includes the best-known candidates — former City Attorney Mike Aguirre, Councilmen David Alvarez and Kevin Faulconer, ex-Assemblyman Nathan Fletcher and Bruce Coons, executive director of the preservationist group Save Our Heritage Organisation.
The final tally came after the county Registrar of Voters Office verified signatures collected on petitions by the candidates, who needed at least 200 valid names to qualify for the ballot.
Lawyer Hud Collins, business administrator and Realtor Harry Dirks, San Diego State University senior Michael Kemmer and, businessman Sina "Simon" Moghadam also made the cut, as did Tobiah Pettus, the only lesser-known candidate to make last year's primary ballot, and gun and personal rights advocate Lincoln Pickard.
Forty San Diegans filed paperwork with the City Clerk declaring their intent to run in the election to determine who will complete the three years remaining in the term of Bob Filner, who resigned Aug. 30.
More than half of them didn't return signatures by last Friday's deadline. Eight who did failed to qualify.