This is an archived article and the information in the article may be outdated. Please look at the time stamp on the story to see when it was last updated.
PERRIS, Calif. — A Southern California man who said he always wanted to skydive finally did it Monday on this 100th birthday.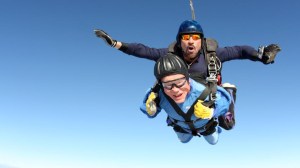 Vernon Maynard, a retired car dealer, and his two great-nephews made their first skydive from 13,000 feet in Perris, said Jean Walcher of the U.S. Parachute Assn.
They were accompanied by trained instructors. Skydive Perris manager Dan Brodsky-Chenfeld said Maynard, of Palm Desert, obtained a doctor's note before making the jump.
Maynard's daughter Linda Hironimus said her father's friends made arrangements for him to skydive after he said he always wanted to try it.