This is an archived article and the information in the article may be outdated. Please look at the time stamp on the story to see when it was last updated.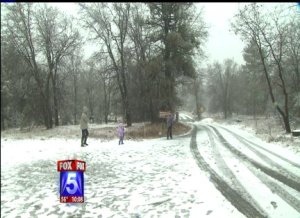 SAN DIEGO – Several vehicles in Palomar Mountain State Park and other county mountains became stuck Tuesday in the frozen glop left over from a passing winter storm.
About 100 vehicles were stuck on Palomar Mountain and could not move because of ice on the roadway, according to persons calling the CHP. County roads crews were already working in the area and several tow trucks with four- wheel drive were dispatched.
Another caller reported at about 1:30 p.m. that vehicles were stuck in ice on both sides of South Grade Road near Canfield Road and traffic was backed up in the area, according to the CHP. Tow trucks were dispatched to that area as well.
A crash was reported in the same area about 2:15 p.m.
The storm dropped about 2 inches of snow in some mountain areas over the weekend, according to the National Weather Service.
Lingering snow could cause icy road conditions, NWS meteorologist Tina Stall told City News Service on Monday.
"If you get any melt during the day it could re-freeze again at night, causing areas of black ice, so roads can still be slick," Stall said.