This is an archived article and the information in the article may be outdated. Please look at the time stamp on the story to see when it was last updated.
SAN DIEGO — A 10-year-old boy is using his artistic talent to help a trainer who suffered severe burns trying to rescue her horses at the San Luis Rey Training Center in Bonsall during the Lilac Fire.
Martine Bellocq suffered burns on more than 50 percent of her body and is undergoing several surgeries during her recovery.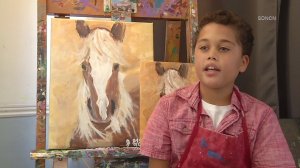 Despite Martine and her husband Pierre's efforts to save all six of their horses, they lost two.
Josiah Love and his mother, who were in the path of the fire but never had to evacuate, felt compelled to help.
"I was very sad and also pretty angry because the fires hurt her while she was trying to save her horses," Josiah said.
"Just watching the news and seeing what was going on, it was at the same time he was doing this painting — he started it before and then he finished it during the fire — and he wanted to help in some way," Josiah's mother said.
Josiah and his mother decided to create prints and sell them to benefit Bellocq and her family, who, until recently, were strangers. Though they have yet to meet in person, they have been in contact and have met with a close friend of the family.
"That was a great meeting and it's nice to have a direct contact with the family. Once we get all of our proceeds, 100 percent are going directly to them," said Josiah's mother.
Bellocq's family told FOX 5 Martine remains hospitalized in serious but stable condition.
"She is recovering, it's just going to be a very slow process," Josiah's mother said.
To order prints, email josiahsartfundraiser@gmail.com.
A GoFundMe page is raising funds for Bellocq's medical treatment.